HOURS OF OPERATION
Monday-Friday: 5:30am - 8:00pm
Saturday: 8:00am - 4:00pm
(Pool available till 7pm)
Sunday: 2:00pm - 6:00pm
(Pool Open For Swimming)
Membership
The Fitness Center at DBC is open for membership to the general public and offers competitive rates.
If you are interested in touring our facility stop by, call 770.280.1210 or send us an email for more information.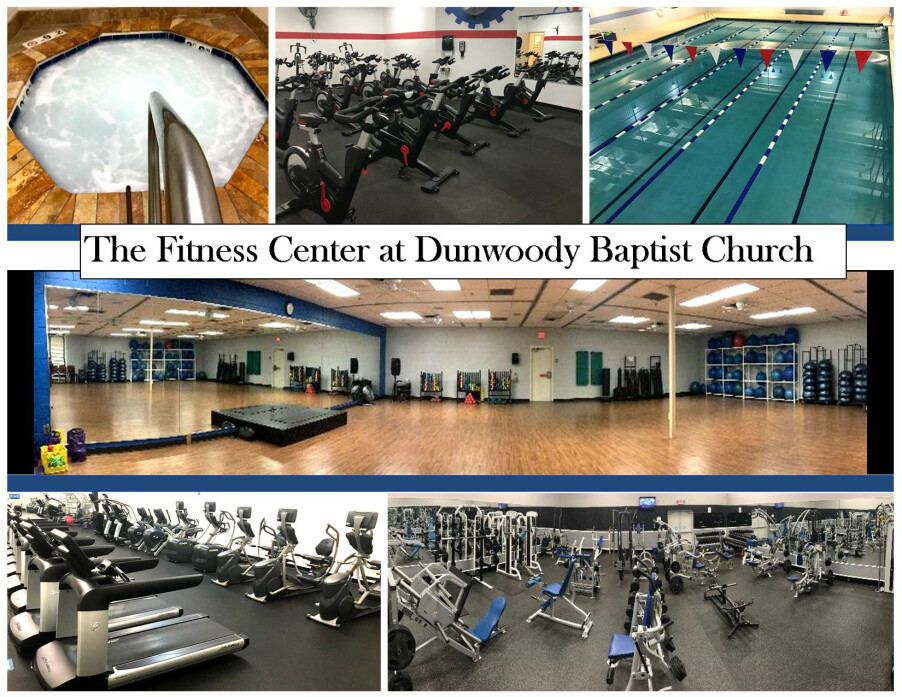 Membership entitles you to use all of the following:
6 Lane Junior Olympic Indoor Pool with a new Saline Spa Water System
Complete Men and Women's Locker Room Facilities
Dry Sauna & Whirlpool
Childcare Available
Personal Fitness Assessment (flexibility, body fat, blood pressure, resting heart rate)
Special Health/Fitness Programs & Event
Cardio
Indoor Cushioned Track
Indoor Basketball (When Available)
Machines: Treadmills, Stairmasters, Bikes, Elliptical Trainers, Rowing Ergometers
Over 50 Land Aerobic classes with varying intensity levels each week
Water aerobics classes and Master Swim
Strength Training
Free Weight Room with new rubber plated dumbbells and bars
LifeFitness Strength Training Equipment
Certified Personal Trainers at Competitive Rates*
*ONLY FITNESS CENTER STAFF TRAINERS ALLOWED
Membership Fees
Community Membership
| | |
| --- | --- |
| Adult | $45/mo. |
| 65+ | $40/mo. |
| Family | $75/mo. |
| Senior Couple 65+ | $70/mo. |
| Youth (15-21) | $30/mo. |
DBC Membership
| | |
| --- | --- |
| Adult | $40/mo. |
| 65+ | $35/mo. |
| Family | $70/mo. |
| Senior Couple | $65/mo. |
A one-time registration fee of $50.
Guests are welcome to use The Fitness Center for a fee of $10 a day, $35 a week or $50 a month.
Class Schedules
Choose an option below to download a PDF schedule or class description. Fitness classes will be updated as changes occur so you will always have the most current schedule. Paper copies of the schedules are available at the Fitness Center.
Personal Training
Our certified trainers will help you achieve your fitness goals through individually prescribed programs. They can assist with health concerns, weight loss, decreased energy and help maintain accountability for your workouts. Please contact Gloria Copeland for more information.
About Our Trainers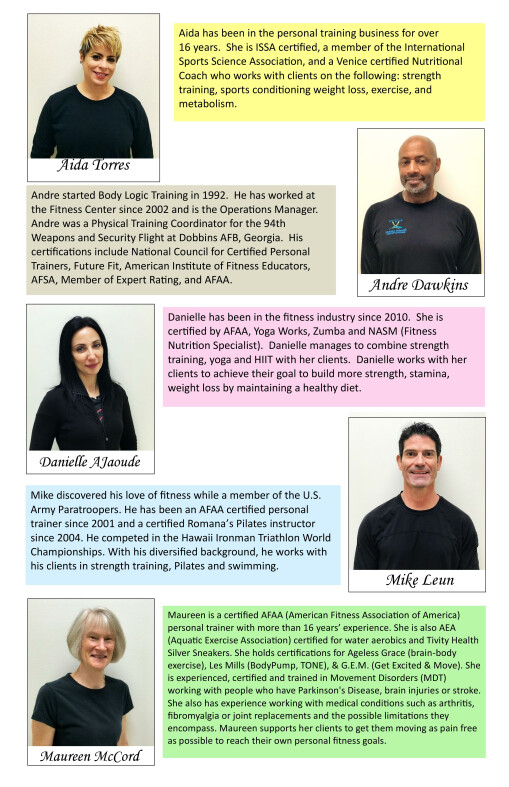 Programs


Tae Kwon Do
We teach students how to exercise and combine both mind and body together as one. With the strict discipline incorporated in our program, the students will learn how to manage their stress plus anger and channel those emotions into positive results through sweat and dedication. Our mission is to uphold the highest standards of excellence so that every athlete is inspired to set and achieve personal goals in a manner of integrity, honor and respect.
Our Mission
Improve Focus
Improve Teamwork and Positive Social Interaction
Improve Balance and Posture
Improve Self-Discipline and Responsibility
Teach Respect and Self-Control
Encourage a Competitive Spirit
Master Joaquin
5th degree black belt in Taekwondo, and Korean martial arts. Is Also a member of the USA National Team for NASTA, ATU and AAU.
Class Times & Fees
Thursdays and Fridays
Beginner Classes (White / Yellow / Orange) : 5:15 pm - 6:15 pm
Intermediate Classes (Green and Up) : 6:20 pm - 7:20 pm
Cost
$90/month
Uniforms and belts are an additional fee.
For more information contact Joaquin Pinkard, 770.557.9325 or the Fitness Center at 770.280.1210

Dynamo Swim School
Dynamo provides swimming lessons for ages 3 to adult in either a private or group setting. To make an appointment for private swim lessons, please fill out the request form and turn it in at the front desk.
Download Private Swim Request Form
British Swim School

Water safety and survival skills are essential at any age, and that's why British Swim School offers swimming lessons for babies, toddlers, kids, and adults. Our highly-trained swimming instructors will help develop the skills and confidence of every swimmer through fun and safe lessons with patience and enthusiasm.
Childcare
While you use the Fitness Center, free childcare for your children, ages 3 months through 9 years, is available in the DBC Castle Kidz childcare building. You will be given a Kidz Club Card to present when leaving your children in the facility. Kidz Club Cards can be picked up at the front desk every month.
Castle Kidz Childcare Hours:
Monday - Friday: 8:30 am - 1:00 pm