Private Music Lessons
Private Music Lessons
Meet our Teachers
Our instructors are considered THE best in their fields and we are honored to have them share their talents, gifts, and love of music with our students,
Erika Sunday: Piano & Voice

Erika Sunday has been playing the piano and guitar since the age of 12. Growing up in a musical family, her dad was an excellent piano teacher and church Minister for 25 years. He taught her all about music, piano, guitar, and worship. Over the past 5 years, she has been blessed with the opportunity to teach piano to elementary, middle school, and high school students. As a youth leader, Ms. Erika teaches the importance of worshiping, giving, and incorporating God into daily living.
In addition, over the course of 8 years, she has been playing the piano and guitar for various venues and events, such as Paulding's Next Star, while also leading worship in church. Ms. Erika is not only a gifted piano Instructor but she is a singer and songwriter who loves to write Worship music. As an Instructor, youth mentor, and worship leader, Ms. Erika hopes are that everyone can experience the true love of Jesus, through relationship, fellowship, and worship!
GREG COILE: Brass & Woodwinds

Greg has served as the Orchestra Director at Dunwoody Baptist Church for 25 years. His professional career began in 1972 as a member of the Third Army Band at Fort McPherson, GA. He served over twenty years as a soldier-musician performing throughout the United States, Central America, Puerto Rico, and the Virgin Islands. Under Greg's direction, the Army Jazz Band performed for the Georgia Music Educator's Association (GMEA) in Savannah, GA, and the International Association of Jazz Educators (IAJE) in New Orleans, Louisiana. After retiring from the Army, he joined the DeKalb County School System where he taught Instrumental Music at Kittredge Magnet School, Fernbank Elementary School, and Chamblee Middle School. During this time, he became more active as a professional musician in the Atlanta area.
Greg's performance career includes performing with the Atlanta Symphony, the Alliance Theater, the Fabulous Fox, and Chastain Park. He has also performed with the Moody Blues, the Temptations, Four Tops, Frankie Valli, Bette Midler, Aretha Franklin, Natalie Cole, Rosemary Cluny, Ray Charles, Wayne Newton, Cab Callaway, the Glenn Miller Band, Barry Manilow, Frank Sinatra, Buddy Epsen, Lorne Greene and Lucille Ball, to name a few. Some notable performances include performing for Presidents Ronald Reagan, and Jimmy Carter's 75th Birthday
JEFF FRAZIER: PIANO & CLARINET

Jeff has been teaching piano students since 1998— starting with the Academy of Performing Arts at First Baptist Atlanta before joining Dunwoody School for the Arts. During high school and college, he was the pianist for the church he attended. He has also filled in as a rehearsal pianist for the various musicals performed by the First Baptist Atlanta and the Agape Players. Jeff also has played principal clarinet in the Atlanta Passion Play and has been in the clarinet section of the First Baptist Atlanta Worship Orchestra for a total of 10 years.
Music has always played a big part in Jeff's life. Over the years he has performed in several musicals produced by First Baptist Atlanta and recently, Agape Players. Some of his favorite roles have been: George Bailey in a musical adaptation of It's a Wonderful Life; Judas in the Atlanta Passion Play; Fred in Here's Love (a musical based on Miracle on 34th Street); The Rabbi's son and bottle dancer in Fiddler on the Roof; Ambrose Kemper in Hello, Dolly!; Tommy Djilas in The Music Man; Pawnee Bill and Tommy Keeler in Annie Get Your Gun; Bob Crotchet in Scrooge; and Linus in You're a Good Man Charlie Brown.
Kevin Spratt: Guitar
Kevin Spratt is a skilled guitarist, multi-instrumentalist, audio engineer, and music producer with over 20 years of experience in the industry. Currently based out of Atlanta, GA, Kevin is co-owner of his company Bad Mood Cure, Music LLC. At BMC, Kevin has had the opportunity to produce for independent artists and sync licensing music libraries. This includes the theme song composition for the children's toy Zylie The Bear, featured at Toys R' Us as advertised on RadioDisney.
Teaching has been a long-time passion for Kevin and he offers lessons specializing in playing 6-string electric and/or acoustic guitar across a variety of genres and styles. He understands that each and every student is unique, which requires an approach tailored to their individual needs and their goals as an aspiring guitar player. Most importantly, to develop proper technique, confidence, and a polished skill set while having a great time throughout the process.
Kyle Edmonston: Percussion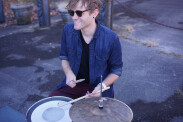 Kyle Edmonston is from Atlanta, GA. He went to Berklee College of Music, graduating in 2013 with a Bachelor's in Performance for Drum Set. He has played with numerous artists, including Reba McEntire, Lindsay Ell, RaeLynn, and countless singer-songwriters, both live and in the studio. He is currently studying for his Masters in Jazz Studies at Georgia State University.
Nathan Comeaux: guitar & ukulele
Richard Mills: piano, Violin & Viola

Rich Mills is a new violin, viola, and piano teacher at the Dunwoody School for the Arts. He has taught private music lessons for over 30 years and especially loves helping students of all ages explore their chosen instruments and develop a deeper appreciation of music. He has a Master's and Bachelor's degree in Music from the Indiana University School of Music. He has also taught for many years in Atlanta area colleges and public schools and performed professionally in Classical, Jazz, Popular, and Gospel music styles.
Seth Kuehn: Saxophone & CLARINET
Having taught at public, private, and collegiate institutions for over twenty years, Seth Kuehn is proud to be one of Dunwoody School for the Arts' saxophone and clarinet Instructors. Through the years Seth's students have experienced many opportunities including principal seats in all-state bands, European performance tours, performances at American venues (New York Metropolitan Opera), and numerous education positions/assignments. Performance credits include Atlanta Symphony Orchestra, Atlanta Ballet Symphony Orchestra, Alliance Theatre's world premiere productions, National Public Radio, Tyler Perry, Danny Elfman, Ben Folds, Hugh Jackman, Ray Charles, Idina Menzel, Martina McBride, Quincy Jones, Common, Aretha Franklin, Tony Bennett, Seth McFarlane, Chaka Khan, Jamie Cullum, Kenny Rogers, Patti LaBelle, Doc Severinsen, and many more. In his free time, Seth performs at metro Atlanta churches, works on book ideas with children's book author James Dean, and holds a Costco Gold Card membership.
Ashlee Vaca: Piano & Voice

Register for Ms. Ashlee
Ashlee Vaca is an accomplished singer/ songwriter/ pianist from New York. After 15 years in the music industry, Ashlee has performed at venues such as Madison Square Garden, CBS's Star Search, Showtime at the Apollo, Good Day New York, and many more.
Currently residing in Atlanta, GA, Ashlee is a graduate of the Art Institute of Atlanta, where she received her Bachelor's degree in Audio Production. Ashlee is also the co-owner of her company Bad Mood Cure Music LLC. With her company, she has had the opportunity to create musical works for brands such as Zylie the Bear, with advertisements that have been broadcast on RadioDisney.
As a music teacher, Ashlee wishes to translate her experience and education into well-developed skillsets for her students that wish to break into the music industry or just want to have fun learning about music!
Registration & Scheduling:
Registration for the 2022-2023 school year is now open!!! Our private lessons consist of 35 weekly lessons throughout the given school year. To accommodate all of our students' busy schedules, we offer a variety of teaching duration, days, times, and hybrid options. When you choose a particular Instructor or type of private lesson, you will see the days of instruction (Mon-Thurs) as well as the time ranges of those days in our registration portal. Once you have registered, the Instructor will contact you within 24-48 hours to schedule your specific lesson time. If the time you prefer is unavailable for any reason, we will work with you to find the Instructor with your preferred time availability.
In addition, private students are expected to attend each scheduled lesson within the year. Once you have been registered for one of our classes/lessons, we consider that an agreement that you are planning to attend for the entire school year (Aug - May/35wks). At the end of the school year, students will have the opportunity to perform in our annual Spring Private Music Recital. This year the recital will be on Saturday, May 13th, 2023 at 11am.
Canceled Lessons and Make-ups:
There will be only four make-up lessons allowed per school year. The Instructor should have at least 36 hours notice for non-emergencies for you to be eligible for a make-up lesson. Please contact your teacher or email as soon as possible if you are unable to get to your lesson due to illness or other unavoidable problems.
Classes/lessons will be held on Monday holidays unless indicated on our Holiday Schedule below.
You can register using the links below or by clicking the registration link in a particular Instructor's bio section. After viewing our website, if you have any additional questions and/or concerns please contact us at .
Fee Structure:
Please select from the links below to register and/or submit your online payment for your private lessons. If you register after August 8th, 2022, your first month's tuition and registration fee(s) will be due upon registration. You have the option to submit your tuition payment in full or monthly. If monthly is chosen, you will be billed on or around the 10th of each month, August 2022 thru May 2023. We spread your tuition payments over 10 months as well as factor in all holidays and school breaks. Please carefully read and adhere to our payment policies and procedures regarding enrollment cancellation.
MONTHLY MUSIC LESSON TUITION
Lessons:

30 Minute Lesson
Monthly Billing:

* Includes 36 weeks of instruction

45 Minute Lesson
Monthly Billing:

* Includes 36 weeks of instruction

60 Minute Lesson
Monthly Billing:

* Includes 36 weeks of instruction

Private Brass/Woodwind Instruments

$136

$200

$264

Private Guitar & Ukulele

$136

$200

$264

Private Percussion
$136
$200
$264

Private Piano

$136

$200

$264

Private Voice

$136

$200

$264

Registration Fee:

$35 to be billed annually upon registration.

($20 per additional family member).
Holiday Schedule
2022-2023 Private Lesson Year: August 8th, 2022 through May 14th, 2023 (35 lessons during the school year with an option of 8, 6, or 4 flexible lessons over the summer).
Monday, September 5th, 2022

Labor Day - No lessons

November 21st - 27th, 2022

Thanksgiving Break-No lessons

Friday, December 16th, 2022

Make-up day for Labor Day

December 19th, 2022 -

January 9th, 2023


Christmas Break - No lessons

Monday, January 16th, 2023

MLK Holiday - No lessons

Friday, March 10th, 2023

Make-up Day for MLK Holiday

April 3rd - 9th, 2023

Spring Break - No lessons

Saturday, May 13th, 2023

Spring Private Music Recital
Lessons that fall on a holiday will be held unless indicated on the above schedule. You will be responsible for the payment of these lessons. If you will be unable to attend your lesson, you should make alternate arrangements with your teacher in advance. Please read carefully the DSA policies and procedures as it relates to this subject matter.